2018 Schedule
Friday July 6th Black Panther TRAILER
Friday July 27th Peter Rabbit TRAILER
Friday August 3rd A Wrinkle In Time (2018) TRAILER

At Sunset (about 8:45pm) enjoy a movie at our Community Gardens (46th & Vliet).

Bring a blanket, snacks, possibily bug spray, and enjoy a movie with your neighbors. A reminder to also make sure the kids use the bathroom before leaving the house. We recommend keeping liquids to a minimum. If there is a problem with the weather, you'll get an email via martin-drive@yahoogroups.com by 7:30 p.m. on the day of the event. It'll also be announced on Facebook and Twitter.


*National Night Out is a community-police awareness-raising event in the United States, held the first Tuesday of August.​​​ Neighbors are encouraged to use exterior lights at night and report any suspicious activities to Milwaukee Police.



Outdoor Summer Movies in the Martin Drive Neighborhood
Thanks to the Baumgartner​
family for supplying electricity.
Outdoor Movies @ Community Gardens & Pavillion
1335 N 46 ST​
​(46th & Vliet)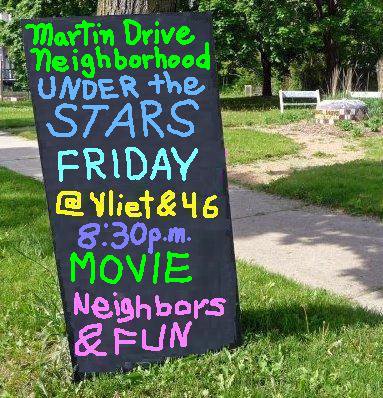 Friday July 6th, 2018 - Black Panther

Friday July 13th, 2018 - Peter Rabbit MOVED TO JULY 27TH BECAUSE OF WEATHER

​​Friday August 3rd, 2018 - A Wrinkle In Time (2018)
​​
​